Gallery
Safari Lone Star Quilt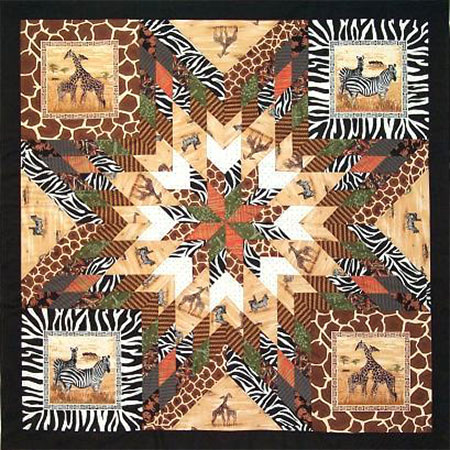 Seeing some wonderful pillow-sized printed fabrics in a specific theme can really excite your creative juices! This quilt features two pair of African animal prints, and many coordinating fabrics that enhance the original designs.

Once the fabrics are selected, and the corner squares are in place, I created pieced triangles for the 4 remaining areas around the central star medallion using more of the fabrics from the star. Click on the link (below) to see additional fabric collections for other themes.

This workshop features the BASIC Lone Star methods of strip piecing, angle cutting, working with bias edges on diamonds, assembling the larger diamond units, and setting in blocks and corners. It's a great class if you're an advanced beginner (intermediate-level) quilter, and have never worked with diamonds before. Additional instruction will cover outer borders and block inserts to add further design possibilities to your quilt.


Double Cappuccino Lone Star

Dragonfly Pond Lone Star

Remembrance Feathered Lone Star

Safari Lone Star

Spiral Lone Star

Summer Salsa Lone Star

Tea Time Lone Star

Violets and Ivy Lone Star