Gallery
Double Cappuccino Lone Star Quilt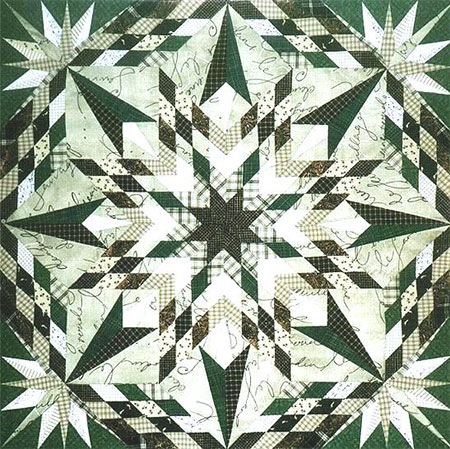 This quilt begins with the classic Lone Star quilt design, and Jan has added extra pieced blocks.
The corners are hand-drafted triangular Mariner's Compass blocks.
Color families are: rich frothy tan, flavorful espresso black, creamy ivory and forest green.
This color combination reminds me of savoring coffee with friends in a cozy, plant-filled coffee shop. Enjoy!
The same quilt, Summer Salsa, made with brilliant orange, lime green, teal and black is a
great variation with a totally different appearance.
STUDENTS SAY:
"Summer Salsa or Double Cappuccino is a terrific two-day workshop for a quilt guild, seminar or retreat. (There is a lot of material to cover for a one-day class.)
We had a TERRIFIC time in Jan's workshop! "

Also in the BASIC Lone Star series:

Double Cappuccino Lone Star
Dragonfly Pond Lone Star
Remembrance Feathered Lone Star
Safari Lone Star

Spiral Lone Star
Summer Salsa Lone Star
Tea Time Lone Star
Violets and Ivy Lone Star