Gallery
Spring Crocuses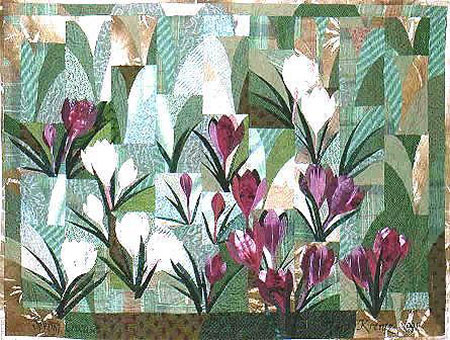 The inspiration for the quilt was a lovely photo (seen in a Smith & Hawken gardening catalog) of a misty, grassy slope scattered with naturalized crocuses in bloom. The design was created in a 5-day workshop with Ruth McDowell in 1990. The flowers, buds and leaves are mainly machine-pieced, with some appliqué.

Shows and Awards:
Monterey Peninsula Quilt Show, April 1991, 2nd place, Viewer's Choice, 3rd place, Workmanship; (Monterey, CA) Natural Impressions: Quilts at the Museum of Natural History, May 1991, (Santa Barbara, CA) Marin Needlework & Quilt Show, Sept 1991, (San Rafael, CA) Quilter's Unlimited Quilt Show, 1993, (Annandale, VA) The Best of the Valley Regional Quilt Show, Oct 1995, (Tulare, CA) Riverdale Grange Quilt Show, May 1996, (Riverdale, CA) The Best of the Valley Regional Quilt Show, featured artist, Sept/Oct 1996; (Tulare, CA)

Publications:
Ladie's Circle Patchwork Quilts, January 1994; article about Fairfax Quilter's Unlimited, and photo of the Spring Crocuses. Second article in the same issue with one crocus flower (pattern) given for the readers, and a small commentary.

If you love this quilt, be sure to take Jan's Spring Crocus workshop to learn how to accomplish the curved piecing for this beautiful design. Check the Teaching Schedule for current listings of classes.