Workshop Supply List
Stone Mosaic Dimensional Diamonds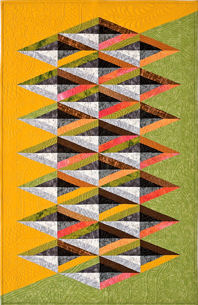 FABRIC REQUIREMENTS
JAN's NOTE:
ADVANCED PREPARATION IS RECOMMENDED! Pre-sew the strip sets before class OR (if you are attending a one-day workshop) bring an interesting multi-colored striped fabric to class for the cutting technique.
There are two methods of construction for this quilt. In class, we will learn about both methods. Instruction will cover the Faux Diamond technique, which is easier. If working with fabric scraps rather than yardage, you may prefer to use the Quarter Diamond method. Please refer to the Stone Mosaic section in Quick Diamond Quilts, pages 77-82. Cutting details are listed on page 78 for both methods.
Click the following links to print the PDFs (you must have Adobe PDF Reader installed on your computer)
Print Fabric Cutting chart – PDF file
Print Color Chart to identify the fabrics you are working with. Your fabrics may vary in color from the gold & green combination.
Print LABELS for FABRIC STRIPS to pin to each piece & help identify strips for class.
ONE DAY CLASSES:
Print advanced sewing prep worksheets
---
Jan's note:
You will prepare fabric at home before class, and cut the strip-sets or commercial stripe fabrics in class. The faux diamond technique is part of class instruction.
***If you prefer NOT to sew strip sets, and want to explore the cutting and design techniques with a pre-printed interesting striped fabric, please bring 2 to 4 yards of an interesting striped fabric. This is a great option for those who register and have no time to prepare advanced sewing prep before class. Click here to see interesting striped FABRIC EXAMPLES.***
Equipment & Tools
Please label all equipment with your name
Sewing machine and related equipment:
Sewing machine, foot pedal, lint brush, electrical cord, bobbins
1/4-inch presser foot
Sharp sewing machine needles
Multi-outlet power strip
Heavy-duty extension cord (garage weight)
Thread to match project, 3-4 wound bobbins
Book, Iron and Design surface:
Quick Diamond Quilts book by Jan Krentz (2010)
Iron (1 per 3–4 students OK)
Rigid ironing surface such as a June Tailor Cut 'n Press or home-made pressing pad Rotary cutter with new blade and cutting mat
design surface—large piece of flannel, batting, fleece, or similar. (an inexpensive option is a large, square or rectangular flannel-backed vinyl tablecloth)
Rotary cutting rulers and other supplies:
rotary cutter with new blade; you will be cutting in class!

Cutting mat—largest size you can bring. Do not leave your mat in the sun or in a hot car enroute to/ from class!

6" x 24" —used at home to cut strips and 6" x 12" straight ruler—used in class to cut units
glue stick – use to affix fabrics to the Color Chart before class, printed from this website. Bring to class.
3-ring notebook for supply list, color chart, and handouts you'll receive in class
1 roll painter's tape (it has different adhesive than other tapes. I like the 3M brand – looks a little dull – not the smooth & shiny one for minimal stickiness)
a few sheets of blank paper
pen, pencil for writing notes
permanent marking pen such as a Sharpie or Ident-a-pen
before class, print LABELS for FABRIC STRIPS from this website (cut with paper scissors; pin each label to fabric strips as you prepare for class)
100-200 safety pins
straight pins
seam ripper
stiletto or sewing awl (if you own one)
thread snips
all excess fabric scraps—bring with you to class.
BRING TO CLASS / RECOMMENDED ADVANCED PREPARATION:
Optional Equipment — recommended if you own them:
One and two-day classes:


digital camera (will be used as a design tool in class—strongly encouraged)
3M Command Hooks & binder clips (see below)
table leg extenders (see link below for more detail.)
Reading glasses (if you use them)
Zip-lock bag for small pieces
Sack lunch, water or small snack (ask organizer about meal provisions)

Two Day Classes:




2 rubber door stops (used to tilt the machine towards you for better visibility of the sewing surface)
chair cushion (to raise you for better sewing angle & comfort on a hard metal or plastic chair)
acrylic sewing machine extension table (fits around your machine—VERY useful when precision piecing)
Personal fan / portable light
Quilt Design Coloring Sheet
FOLLOWING CLASS:
Print: notes for adding the border units to the quilt top; print when needed for your construction.
Print: duplicate Page 13 [PDF] from class handout— labels to identify numbers of cut sections for quilt
Print: Seam Calibration page for any sewing project
Click here for fabric ideas and further information
Supply List Tips & Tools